Leadership in the Human Services
"I was a person with natural leadership ability who was promoted but wasn't given a lot of the training and skills that I needed to succeed. My UCalgary Leadership MSW gave me the skills and knowledge I needed to become a higher-level leader within the Distress Centre"
Jerilyn Dressler, MSW '15 (Leadership), CEO Calgary Distress Centre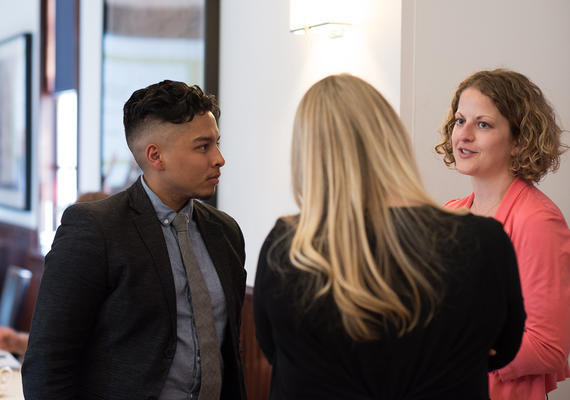 What will I learn?
This degree will teach you to engage in critical thinking, reflection, and have the deliberate conversations required by social work leaders to navigate major issues and difficult organizational situations that managers face in a variety of human service, government and other community based organizational contexts.
Practical and theoretical learning
"I think the practical skills I gained were something that in an MSW leadership program, I wasn't sure that I would get. But I sure did. I learned how to read a financial statement. I learned how to read a balance sheet. We learned the difference between leadership and management leadership.  Leadership is always preferred, but sometimes those concrete management skills are needed. That is definitely something that I received from my time in the program and those were critical skills for me."
Jerilyn Dressler, MSW '15 (Leadership)
CEO Calgary Distress Centre