Social Work Grand Rounds
UCalgary Social Work and Alberta Health Services are pleased to present Social Work Grand Rounds. A free, online, professional development webinar series to support social workers and allied health professionals.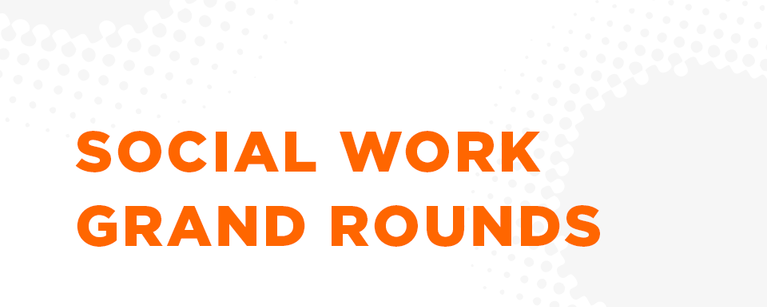 Upcoming Events - Register Now
Sign up for our Professional Development Newsletter
Our monthly newsletter features news, events, announcements and more.
Collection of personal information
Your personal information is collected under the authority of section 33(c) of the Freedom of Information and Protection of Privacy Act. If you have any questions about the collection or use of this information, please visit our Access to Information page.
Past Presentations
2021-2022
Fundamentals of Online Service Delivery
Lawerence Murphy
How the Pandmic has Changed our View of Ethics and What Social Workers Need to Know
Kerry Bowman
How Calgary Counselling Centre has used Outcome Data to Transform its Depression Program
Robbie Babins-Wagner
Social Work Grand Rounds: Special Film Screening & Panel Discussion
Special Film Screening & Panel Discussion of The Wisdom of Trauma: Can our deepest pain be a doorway to healing? (featuring Gabor Maté)
AHS Tramua Panel: Jenn Corbiell, Edith Zuidhof-Knoop, Michelle Agopsowicz and Joanna Gladue
Mindfulness, Mindset & Motivation: How do we keep going on an empty tank?
Tracey Delfs
Complex Kids Panel
Panel: Bjorn Johansson (CEO - Wood's Homes), Jerilyn Dressler (COO - Trellis), Joy Bown-Eyre (CEO - The Alex), Brian Zelt (Senior Director - Hull Services), Ryan Clements (Program Manager,Centre for Child & Adolescent Mental Health, AHS)
Leading with Emotional Intelligence
David Cory