Using a social work lens you'll examine and engage with policies, practices and ethical approaches to working with diverse populations in global and local contexts. You'll analyze the social forces, structures, systems and international institutions that give rise to different models of social development. You'll explore and build skills to apply alternative intervention strategies and methods. Our grads have gone on to work in international and Canadian settings with international organizations, NGOs, Canadian development agencies, and working with immigrant populations.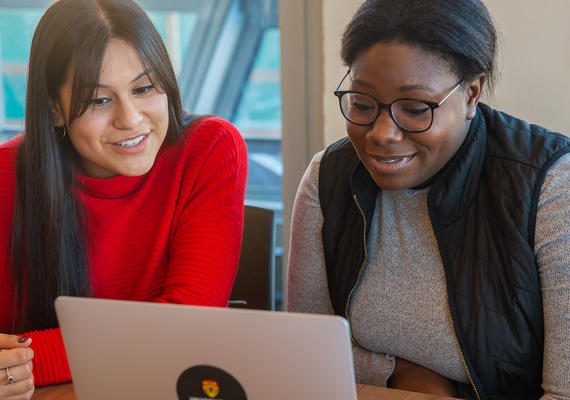 Course- or Thesis-Based MSW?
The course-based MSW program is designed to enhance the practical knowledge of social workers. Courses mirror real-life situations. The goal of this program is to graduate independent professionals to the social work profession.
---
The thesis-based MSW program is designed for students who intend to pursue doctoral studies and/or anticipate a career requiring advanced program evaluation and research skills.
The MSW degree consists of 12 courses (36 units), including 500 hours of field practicum (equivalent to 2 courses):
4 courses of Advanced Social Work Practice (12 units),
4 Specialization courses in International Social Development (12 units), and
4 courses of Field Education, Integrative Seminar, Research Applications and Exit Requirement (12 units).
The four specialization courses build your knowledge sequentially, so you need to follow the curriculum plan.
Expected completion time is 24 months.
As established by the Faculty of Graduate Studies, the maximum completion time is 6 years for a course-based master's.
International Social Development: Courses
International Social Development: Theories and Interventions
A comprehensive overview of the scope and nature of international social development that combines theoretical approaches with policy and practice focused frameworks. You'll analyze social development theories and practice models from a historical and critical perspective, focusing on their socio-political-economic dimensions. Alternative ideologies and alternative development approaches will be explored. We'll also evaluate the role of social work in the field of international social development.
International Social Work in Canada
This course focuses on the ethics, knowledge and skills required for international social work practice in the Canadian context. Key concepts include colonialism and nation-building; power, privilege, systemic disadvantage and intersectionality; migration, forced migration, trafficking and (re)settlement. Popular education and experiential learning will be used to promote critical self-reflection and solidarity practices. You'll develop and enhance skills that can be employed in the contexts of community, organization and policy work.
Advanced Practice in Sustainable Development
We'll focus on sustainable development processes to identify interlinkages between the social, economic, and environmental dimensions of sustainable development. A social-ecological and 'green social work' approach will be used to explore key concepts such as resilience, eco-social policies, and Sustainable Development Goals. The role of practitioners, activists, civil society organizations, and policy innovations will be considered in advancing transformative change towards environmentally sustainable and socially equitable solutions.
Social Work & International Development Projects
This course will prepare you to critically engage with international development projects. You'll also develop necessary skills relevant to various aspects of project design, development, implementation and evaluation. This course also provides the knowledge and skills needed to critically examine global neoliberal realities that promote market-oriented ideologies and their impacts on transnational experiences of marginalization. You'll learn the practical skills and theory needed to work in Canada or internationally in community development, in a variety of settings.
Missed or unable to attend our previously scheduled information sessions?
You can watch the recordings here: