International & Community Development
Information for applicants with a Non-BSW Degree
 
Using a social work lens you'll examine and engage with policies, practices and ethical approaches to working with diverse populations in global and local contexts. You'll analyze the social forces, structures, systems and international institutions that give rise to different models of social development. You'll explore and build skills to apply alternative intervention strategies and methods. Our grads have gone on to work in international and Canadian settings with international organizations, NGOs, Canadian development agencies, and working with immigrant populations.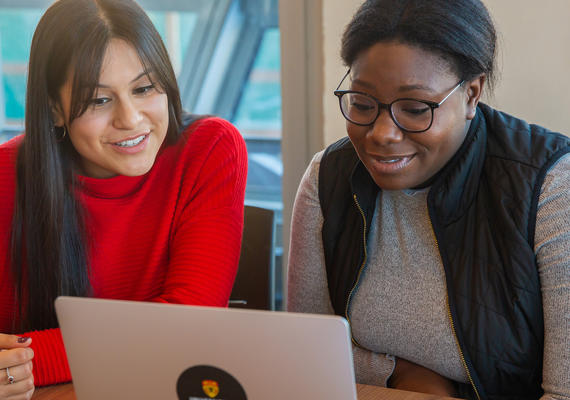 Course- or Thesis-Based MSW?
The course-based MSW program is designed to enhance the practical knowledge of social workers. Courses mirror real-life situations. The goal of this program is to graduate independent professionals to the social work profession.
---
The thesis-based MSW program is designed for students who intend to pursue doctoral studies and/or anticipate a career requiring advanced program evaluation and research skills.
The first year of your MSW
About your foundation year
The foundation year provides you with the crucial concepts, theory and knowledge you'll need to pursue graduate-level, social work education. Have a look at what your first year will look like.
More details
Every student who who has a degree from a discipline other than Social Work has to complete the foundation year (12 months).
You will advance to your specialization courses after you complete the foundation year - no new application is required.
Course requirements:
The foundation year consists of 9 courses (27 units), including 426 hours of field practicum (equivalent to 1 course):
History and Foundation of the Profession
Professional Communication and Interviewing
Practice with Individuals, Families and Groups
Practice with Organizations and Communities
Social Policy and Social Justice
Human Behaviour in the Environment
Models of Practice
Issues in Social Work Research
Foundational Field Practicum
You must complete all foundation courses before you will be allowed to register in your specialization courses (described further below).
The specialization consists of 12 courses (36 units), including 500 hours of field practicum (equivalent to 2 courses):
4 courses of Advanced Social Work Practice (12 units),
4 Specialization courses in International Social Development (12 units), and
4 courses of Field Education, Integrative Seminar, Research Applications and Exit Requirement (12 units).
The four specialization courses build your knowledge sequentially, so you need to follow the curriculum plan. 
Your MSW degree consists of 21 courses (63 units).
Expected completion time is 36 months.
As established by the Faculty of Graduate Studies, the maximum completion time is 6 years for a course-based master's.
International Social Development Courses