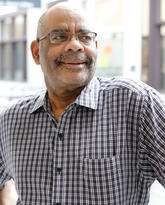 David Este
Professor Emeritus of Social Work
Emeritus
PhD in Social Work
Wilfrid Laurier University
MSW
University of Toronto
MA in History
University of Waterloo
Courses
Not currently teaching any courses.
Research Activities
Research areas
Immigrant, Refugee, Ethno-Cultural, and Racialized Groups
Health, Mental Health and Wellness
Research Methods
Human Service Organizations and Systems
Trauma and Violence
Biography
Dr. David (Dave) Este joined the Faculty of Social Work in 1992. Prior to obtaining his doctorate, he was employed as a medical social worker and a researcher.
He has taught at the undergraduate, graduate and doctoral levels, including courses in social work practice with immigrants and refugees, management of human service organizations, qualitative research methods and mental health.
Este is involved in a number of national multi-site research projects including the New Canadian Children and Youth Study, The Racism, Violence and Health Study, The Father Involvement Research Alliance and the Experiences of Visible Minority Social Workers in British Columbia, Alberta and Ontario.