How to Incorporate and Apply Practice Research
Practice research is often conducted through a collaborative partnership to resolve social work practice issues and strengthen practice strategies (Fouché, 2015). In order to fulfill the integration of practice research into field education, there must be a collaboration between schools and field agencies.
Rather than being a distant and esoteric topic, social work students can learn about practice research before engaging in field placement or practicum. To incorporate research activities into practice, especially into field education, it is not enough to supply knowledge to students, it also is imperative to co-construct new understandings by developing guides, procedures, and frameworks (Satka et al., 2016).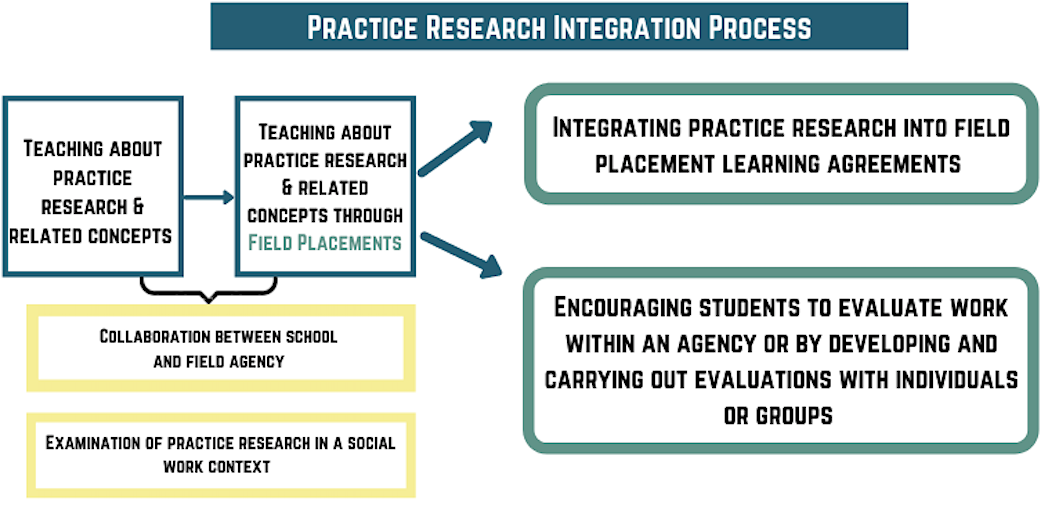 For research to become more accessible to social workers, it is important to develop research skills within the context of field education. According to Cheung et al. (2015) and Whaler (2019), research can be incorporated in social work field education by:
Encouraging field instructors to place value in evidence-based practice
Encouraging students to find solutions through research to problems that they have identified
Identifying user-friendly research material (e.g., videos, podcasts, fact sheets) for students, particularly at the start of practicum
Utilizing the Student Learning Agreement to encourage research activities in the student's learning goals and objectives. Encouraging critical thinking and critical research skills can include:
Critical thinking and analysis of issues (social, client-based, organizational, societal)
Searching for literature through library and scholarly databases
Encouraging a foundational understanding of different research designs (descriptive, experimental, review, correlational, meta-analytic) and methodologies (Indigenous, qualitative, quantitative, participatory action research)
Implementing research findings into social work practice, whether that is with clients, groups, communities, or organizations
Encourage students to evaluate their work within an agency context and develop and implement evaluations with individuals or groups:
Creating a framework for evaluation in individual or group work
Creating assignments that involve practice cases, where students identify key issues, interventions, and design an evaluation to examine the effectiveness of an intervention or treatment
Encouraging students to consider the various elements (measurement approaches, data analysis techniques, critique of literature, and much more) required for the evaluation of practice at micro, mezzo, and macro levels
Strategies for incorporating research into field education may vary within social work programs and field placements. The suggestions listed above are not intended to be restrictive or exhaustive, but rather a starting point to encourage students to weave research into their daily practice.
Student Learning Agreements in Practicum
Practicum students are encouraged to include research activities in their field placement and their learning contract, which may include the following:
Conduct a literature review on a relevant topic
Engage in grant proposal writing
Participate in research design (descriptive, experimental, review, correlational, meta-analytic)
Develop a research ethics proposal
Participate in a study, needs assessments, community consultations, monitoring and evaluations
Conduct policy reviews
Gather relevant resources
Design a data collection tool (feedback survey or questionnaire)
Administer surveys, conduct interviews, facilitate focus groups sessions or community meetings
Engage in data analysis (review a transcript, minutes of a meeting)
Participate in training and capacity building activities (and measure their impact)
Engage in knowledge mobilization (write a report, draft an article for publication, prepare and deliver a presentation, host a webinar or workshop, create an infographic, etc.)
Practice research fosters and creates new learning opportunities for social work students in field education. It is important that students are prepared to carry out their professional duties to the best of their abilities. Students need to perceive themselves as active investigators and knowledge developers in practice, where research can become a tool to generate new knowledge, enhance practice strategies, and move the profession forward.
Field educators and social work academics need to guide students in practice research from an educational perspective, as research knowledge and skills are a vital component of social work practice. It is essential that students be provided with opportunities to apply their course-based research learning into practice. There are a variety of methods for integrating practice research into a field education placement and for evaluating students in their practice research activities. 
There are significant benefits associated with practice research for students, field educators, and field agencies.  Practicum-based research not only brings research to students in an active and  collaborative manner, but it also makes research more accessible for field instructors and agencies. In this manner, field education can be transformed through partnered research training initiatives (Drolet & Harriman, 2020) that involve social work programs, students, field educators, service users, and field agencies. To achieve this transformation, we need to enhance students' knowledge and skills, while also building research capacity through sustained partnered research endeavors.
After many years of post-secondary education in a Health Science program, I have cultivated a great appreciation for research. In healthcare settings, we are taught to be research-minded and integrate research and evidence-based practice into our interactions and practice with patients. After being in social work for a couple of years, it is evident that research and practice research innovate, develop, and inform new knowledge and practices. Research and practice research have taught me to be more critical and examine issues and concepts from a variety of perspectives. It has also taught me that this process is not possible without the collaboration between stakeholders, researchers, service users, and other organizations. I can see the immense value of practice research in social work, and I think that it is imperative that students be taught to cultivate research-mindedness and practice research skills for their future practice as social workers. I believe that bridging the gap between research and practice can help social work practitioners and researchers collaboratively create and enhance resources, programs, and initiatives for service users in all social work practice levels.
Ellen Mi, student perspective,
TFEL Training Module Working Group Research Assistant.
Practice research has transformed my perspectives as a social worker. Before working with the TFEL project as a graduate student, I considered that research was far from my future practice in the field because I thought research involved sophisticated approaches that may not be part of my abilities. However, understanding what is meant by practice research and integrating into social work field education has brought excellent perspectives and opportunities to my career. Practice research is not a complicated topic. It is a game-changer that enhances social work interventions, especially when new and more challenges have to be faced. I higher recommended integrating practice research into everyday practice!
Monica Franco, student perspective,
TFEL Training Module Working Group Research Assistant.