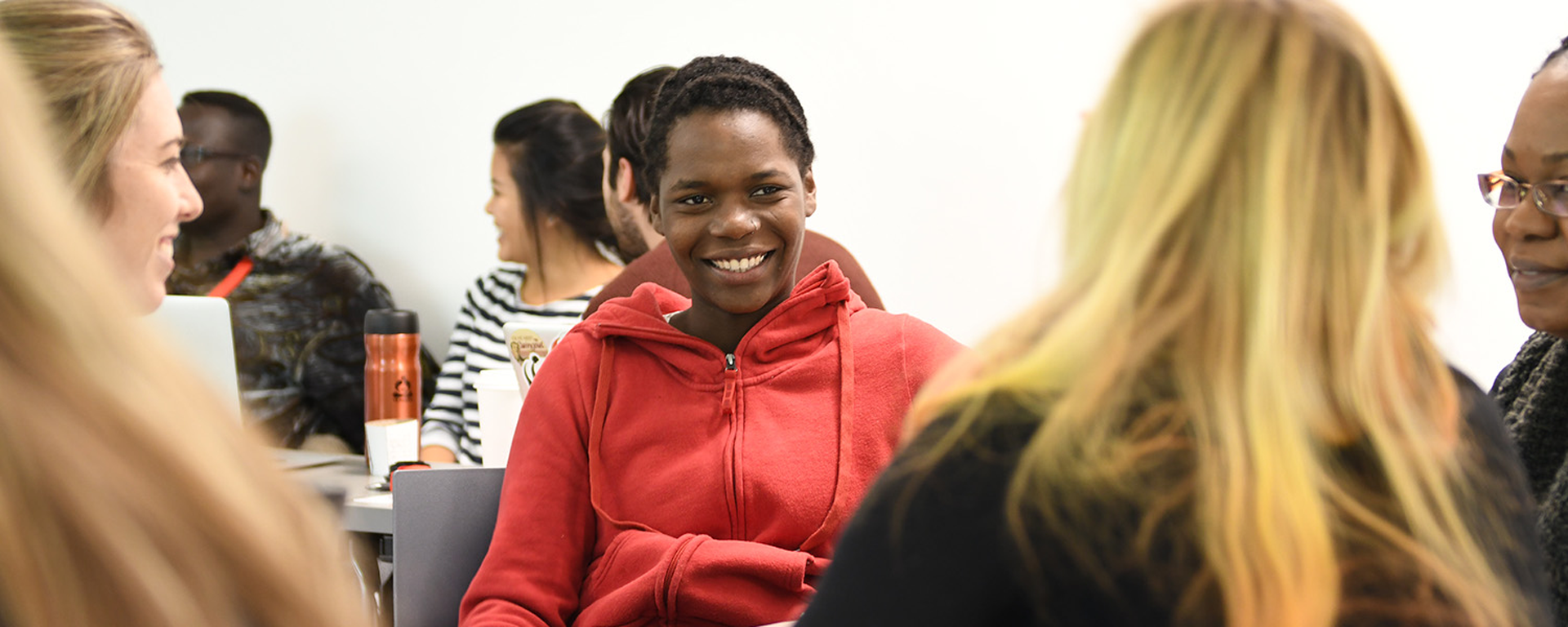 Bachelor of Social Work
Join one of the world's fastest growing professions. Your nationally accredited, flexible social work degree will prepare you to work in an amazing variety of places - from health-care, to community builder - in Canada or around the world. Our profession is focused on social justice. It could be the satisfying career you're looking for.
Looking for a fulfilling career?
Social work is a profession that helps individuals, families, groups, and communities to improve their individual and collective well-being. Social workers work in a wide range of professional roles in many different areas including the health care system, private practice, the public sector, local and international community development and non-profit organizations.
During the course of your studies, you'll gain research capabilities, practical experience, written and verbal communication skills, and a deeper understanding of how to help individuals and families within the context of their environment. As a social worker, you'll be prepared for global career opportunities in settings such as hospitals, community health clinics, social service agencies, correctional facilities, consultation agencies, and the civil service. You may enter our program once you've completed either a social work diploma or two full years of university study, or as an after-degree student.
According to the International Federation of Social Workers, social work is one of the world's fastest growing professions. Social workers are in demand in Canada and around the world. For over 50 years, the University of Calgary, Faculty of Social Work has been recognized internationally for quality social work education and leading research.
A profession that aligns with your passion.
When I decided to go back to school, I wanted a career that aligned with my passion for working with people and seeking positive social change - social work was a natural fit. The best part of the experience was the people. As a cohort, we bonded in a way that brought a valued layer to learning. The program set me up for success and a promising career with the City of Lethbridge before I had even completed it. 
Jerry Firth
BSW '14, MSW '16
Online:
Our Virtual Learning Circles BSW allows you to stay home and take your classes online. Each year you'll have to attend a week-long, block course at our Calgary or Edmonton campus. You can also arrange a practicum placement in your home community.
In-class:
Our BSW program in Calgary, Edmonton and Lethbridge is delivered in-class and in-person. Core social work classes are offered in three-hour blocks once per week. Social work options are offered in-class, online, or in a block-week format.
Don't forget your practicum!
Regardless of your program, in your final semester you'll have to be available to complete a full-time, daily (3-5 days per week) field education placement, or practicum. Practicums are generally held weekdays, during business hours. Field education is a crucial part of your professional social work education.
Which program works best for you?
Our in-class BSW is offered at our Calgary, Edmonton and Lethbridge campuses.
Our Virtual Learning Circle BSW allows you to continue working and living in your home community, with the exception of two block weeks (one each year), which you'll take at our Calgary or Edmonton campus. Your practicum placement can also be arranged in your home community.
Admission requirements vary depending on your education, which also shapes your curriculum if you're accepted:
All applicants need to have completed English Language Arts 30-1 or equivalent in high school, or a transferable post-secondary English course(s).
If you haven't completed any formal social work education – through a recognized diploma program – you'll also need to complete Social Work 201 (or equivalent) which is an introduction to the profession and discipline.
Once you understand your admission requirements, it's a good idea to have a look at what's involved in the application process. While applications close March 1, successful applicants say it's a good idea to start your application process early.