Vision Quest: Creating Our Strategic Plan
The collaborative process we undertook to create this plan and the amazing paintings that capture our shared vision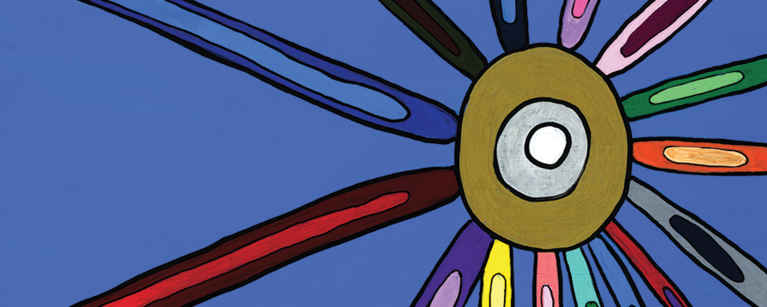 Creating a collaborative vision
On November 25, 2020, our faculty came together to participate in a modified version of the traditional practice of Vision Quest, as a first step in the process of creating a shared vision for a new strategic plan. This approach reflects the faculty's commitment to honour Indigenous ways of knowing, being, sharing, and doing.
The visioning exercise was facilitated by Elder William (Billy) Iskotoohka Wadsworth and Keesis Sagay Egette Kwe – Dr. Jennifer Leason – and sought to understand:
Song to the East: Where do you see our faculty right now?
Song to the South: What are our hopes and dreams for the Faculty of Social Work?
Song to the West: What are the barriers that may get in our way of achieving our hopes and dreams for the faculty?
Song to the North: What are our strengths and gifts to achieve our hopes and dreams?
Participants heard a traditional song, sung by Elder Iskotoohka Wadsworth, and reflected on each question. They were then asked to paint or sketch the images that came to them.
Dr. Leason spent time coding the images, and following reflection and prayer, and inspired by nature, she created a series of beautiful paintings that captured a shared vision she saw in people's individual visions. These paintings create a remarkable celebration of beauty, diversity, and gifts.
The Vision Quest and Painting Process
Dr. Jennifer Leason, artist and UCalgary professor, discusses the vision quest process she helped lead in the faculty and how she went about painting images that captured a shared vision.
Jason Chernow, Buffalo Run Media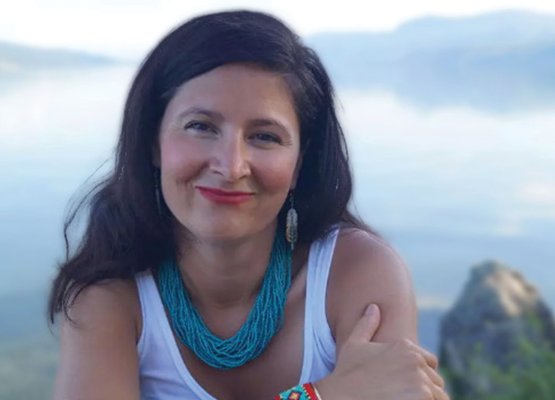 Dr. Jennifer Leason, whose Anishinaabek name is Keesis Sagay Egette Kwe (First Shining Rays of Sunlight Woman), is a member of Pine Creek Indian Band in Manitoba. Dr. Leason is a Canadian Institute of Health Research, Canada Research Chair, Tier II, Indigenous Maternal Child Wellness and an Assistant Professor at the University of Calgary.