Equity, Racial Justice, Decolonization, and Inclusive Excellence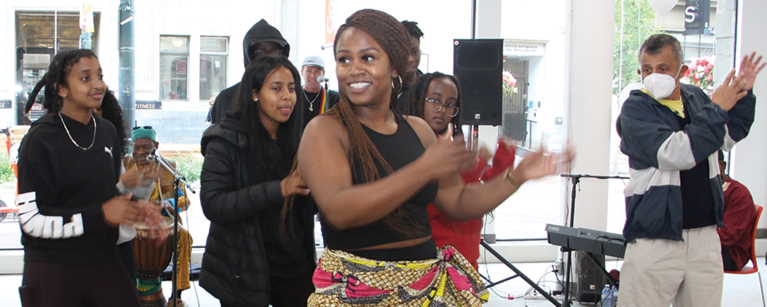 Address racism, including anti-Black racism, and all forms of oppression, social injustice, and their intersections
Work towards actualizing equity, diversity, inclusion, and decolonization within the faculty and community, including implementing the Equity Action Plan, Anti-Black Racism Action Plan, and Indigenous Strategy
Create diverse and inclusive pathways and spaces for equity deserving groups
Engage in knowledge development, mobilization, and teaching approaches that honour diverse ways of knowing and forms of knowledge
First Steps to Reconciliation
In the spring of 2021, the remains of 215 children were discovered at the Kamloops Indian Residential School. Weeks later, 751 unmarked graves were discovered at the former site of the Marieval Indian Residential School in Saskatchewan. Residential school survivors and their families have long known and demanded accountability for those who never came home. The discovery of so many children's remains seemed to have finally created a moment that awakened many Canadians to the horrors and generational legacy of Canada's residential school system.
The Faculty of Social Work was already working to follow a path to Reconciliation as part of the University of Calgary's ii' taa'poh'to'p, Indigenous strategy. However, given social work's legacy and role in the structures of colonization, the faculty knew that something more was needed.
To that end, the Dean, along with the leadership of the Faculty's Wellness Elder, Kerrie Moore (Métis/Cree) created the Indigenous Social Work Circle and Lodge in the spring of 2022. The lodge is already providing learning opportunities for the community, faculty, staff, and students about Indigenous histories, cultures, current realities, languages, knowledges, and teachings. In the coming year, the faculty and lodge will work with Elders and the community to create a faculty-specific Indigenous strategy.
"We seek to create decolonizing spaces that align with the University's ii' taa'poh'to'p principles honouring Indigenous ways of knowing, being, doing, and connecting," says Dr. Natalie St-Denis, PhD (Acadian/Mi'kmaq and Quebecois/Algonquin) the Lodge Director. "The Lodge will also enhance the learning journey of Indigenous social work students by providing Elder and counselling supports, ceremonies, and cultural activities. Our hope is to create a sense of belonging and community – a family away from home for Indigenous students."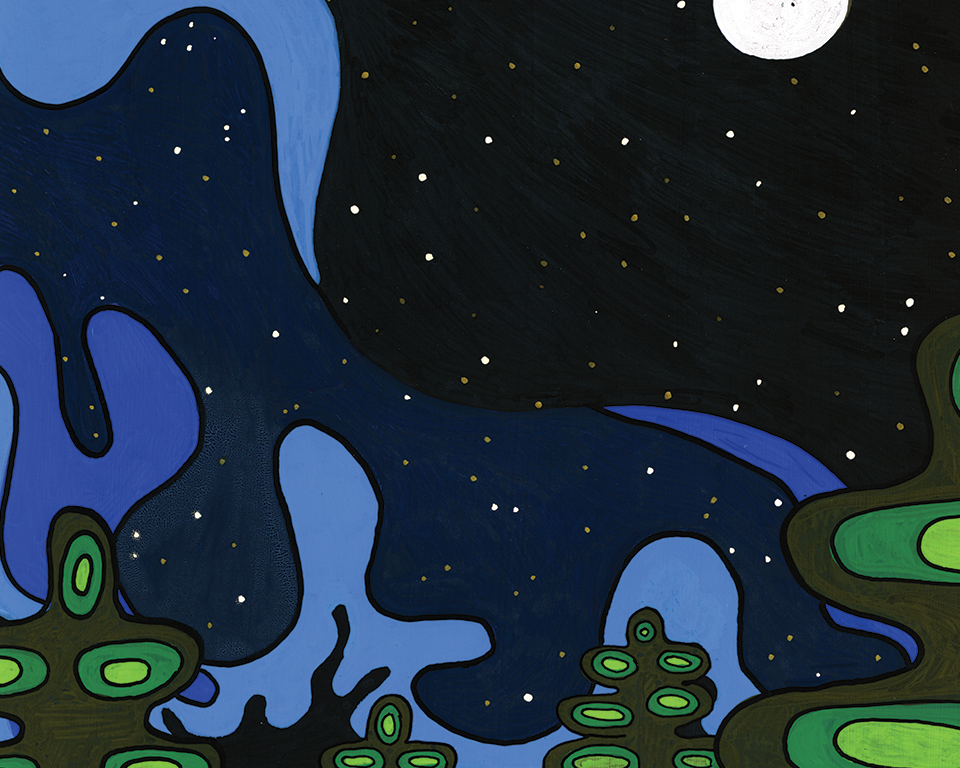 West - A painting by Jennifer Leason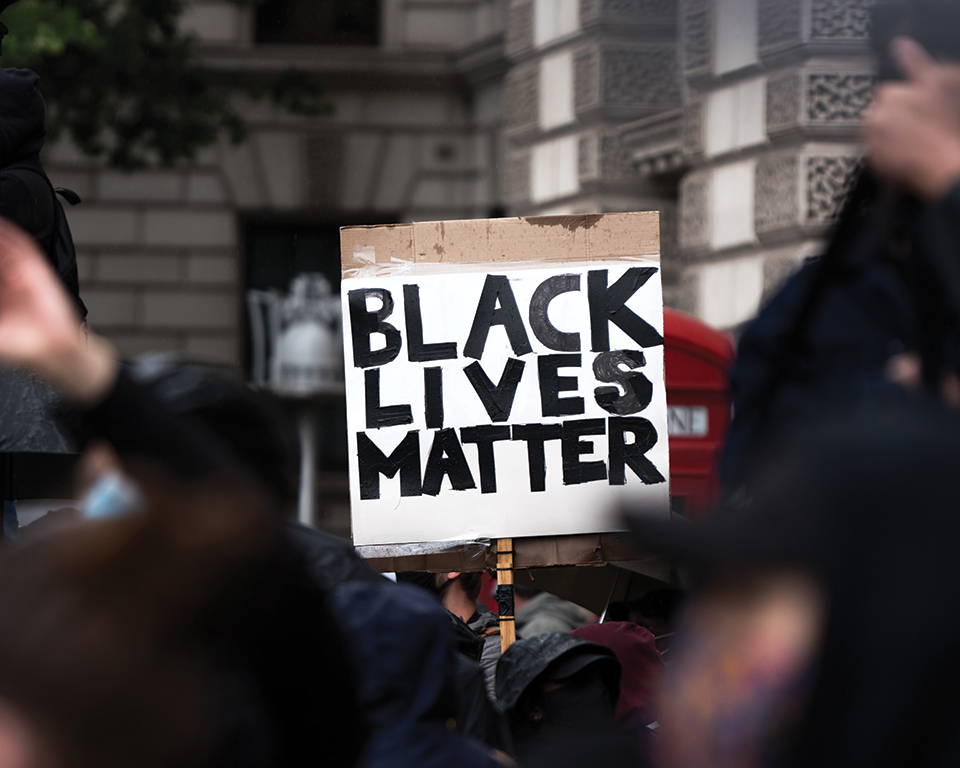 Photo by James Eades, unsplash.com
Our Commitment to Anti-Racism
Following George Floyd's murder in Minneapolis in the spring of 2020, many took to the streets in spontaneous Black Lives Matter protests in the U.S. and Canada. It was a flashpoint moment that finally addressed the commonplace structural racism that exists everywhere – including the university and within our faculty.
In the Faculty of Social Work, it was felt that a transparent dialogue on racism and privilege was needed to create change. The Dean, with a group of committed faculty members, created an action-oriented Anti-Black Racism Task Force (ABRTF). The priorities of their detailed Action Plan include research, addressing racism, promoting Black excellence, removing barriers to education, and making a priority of recruiting Black students, scholars, and staff.
"It's one thing taking a stand, but, for me, just taking a stand isn't good enough... if there's no action, then the words ring pretty hollow." Emeritus professor, Dr. David Este, PhD, nationally recognized anti-racism scholar.
Taking Action Against Racism
Last year, our faculty's Anti-Black Racism Task Force (ABRTF) created a comprehensive action plan entitled "Confronting Anti-Black Racism & Promoting Black Inclusion and Excellence." The plan outlines several priorities including reducing barriers to increase recruitment and admission of Black students.
The Task Force has already created three new scholarships. The Emerging Black Voices and Dr. Wanda Thomas Bernard Leadership were created for undergraduate students, while the Dr. David Este Excellence scholarship is aimed at graduate students.
"We want to encourage more Black students to go into graduate school – at the MSW level or the PhD level," says Dr. Este, a social work emeritus professor, and nationally recognized anti-racism scholar. "We need more Black male students in graduate schools of social work, because there's a dearth of male African Canadian social work faculty in Canada."
Dr. Patrina Duhaney's innovative research project in the summer of 2022 promoted racial and equity justice and created an inclusive space for Black youth on Stephen Avenue Read More
Windigo Whispers in the pines, "I'm coming for you." Windigo breathes down my neck. I shiver. I run. I look for my sister and cousins Don't leave me behind. Don't leave me alone. Nanny warns us, "Don't stay out too late!" Take care of each other or Windigo will find you. Thick skin, acid organs, decaying bones, melting mind Blind, confused, lost Don't leave me alone. Don't leave me behind. Sunset and imminent darkness. Windigo's gaze, looking through my soul. Forever hungry, all consuming. Darkness is surrounded by darkness Lurking in the shadows Distrust, disconnected, truths consumed by lies. Don't leave me behind. Don't leave me alone.